2013 High School Scholarship Essay Contest
PSR/Sacramento congratulates the winners of the
2013 High School Scholarship Essay Contest
The prompt for this year's contest was a position statement by the American Academy of Pediatrics (April 2000):
Firearm regulations, to include bans of handguns and assault weapons, are the most effective way to reduce firearm-related injuries.
The ten finalists presented their essays on April 28, 2013 at a dinner attended by 170 people at the Dante Club in Sacramento. View all ten finalists presenting their essays, courtesy of Media Edge.
First Place – Divya Bhaskar, Rio Americano High School, Sacramento
Hear her 4/29/13 interview (with Dr. Olivia Kasirye) on the Capital Public Radio Insight program.
Second Place – Kyle Thielen, C.K. McClatchy High School, Sacramento
Third Place – Lucas Brown, C.K. McClatchy High School, Sacramento
The other finalists were:
Ella Beckman, C.K. McClatchy High School, Sacramento
Amber Conness, C.K. McClatchy High School, Sacramento
Faith Lemire-Baeten, Liberty Ranch High School, Galt
Molly Parsons, Davis Senior High School, Davis
Casey Stockel, Granite Bay High School, Granite Bay
Jeffrey Williams, Granite Bay High School, Roseville
Angela Yoder, Folsom High School, Folsom
The first, second, and third place finalists were chosen by a panel of distinguished judges from the community. Read their essays by clicking on their names. The first place finalist won a $3000 scholarship, second place a $2500 scholarship, and third place a $2000 scholarship. The other seven finalists each won $1000 scholarships and two alternate finalists $250 each. The judges were: former Sacramento Police Chief Rick Braziel, Sacramento County Public Health Officer Dr. Olivia Kasirye, Julie Leftwich, former Sacramento mayor Anne Rudin, and Amanda Wilcox.
Many thanks to everyone who helped to make this year's scholarship contest a success, including everyone who attended the dinner, who helped read essays, and who contributed to the scholarship fund.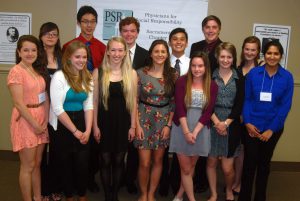 Student finalists, alternates+guest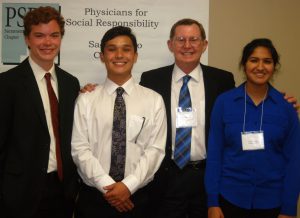 (l-r) Lucas Brown, Kyle Thielen, Dr. Bill Durston, Divya Bhaskar