2019 High School Scholarship Essay Contest
The Sacramento Chapter of Physicians for Social Responsibility congratulates the winners of its 2019 High School Scholarship Essay Contest. The prompt for the 2019 High School Scholarship Essay Contest was the following statement by President Barack Obama:
"We are the first generation to feel the effect of climate change and the last generation who can do something about it."
At the essay contest finals dinner on Sunday, May 5, the 10 student finalists presented their essays orally and a distinguished panel of judges from the community chose the first, second, and third place winners. A total of $15,000 in scholarships was awarded. Scroll down and click on students' names to read their essays. Go to the Scholarship Essay Contest Page of this website to read the essays of winners from past years.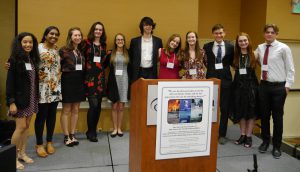 2019 Scholarship Essay Contest Winners pictured above are, from left to right, Sydney Reese, Chinmayi Balusu, Samantha Cutts, Kacey Harmon, Abigail Palmquist, William Madigan, Kathleen Knapp, Julie Ewert, Connor Ryan, Caroline Adams, and Benjamin Porter.
First Place Winner ($3,000 Scholarship)
Senior student at Benicia High School in Benicia, California
Second Place Winner ($2,500 Scholarship)
Senior student at Aspire Benjamin Holt College Preparatory Academy in Stockton, California
Third Place Winner ($2,000 Scholarship)
Senior student at Ghidotti Early College High School in Nevada City, California
$1,000 Scholarship Winner
Senior student at El Dorado High School in Placerville, California
$1,000 Scholarship Winner
Senior student at Vista del Lago High School in Folsom, California
$1,000 Scholarship Winner
Senior student at Bella Vista High School in Fair Oaks, California
$1,000 Scholarship Winner
Senior student at Rio Americano High School in Sacramento, California
$1,000 Scholarship Winner
Senior student at Rio Americano High School in Sacramento, California
$1,000 Scholarship Winner
Senior student at Pioneer High School in Woodland, California
$1,000 Scholarship Winner
Senior student at Placer High School in Auburn, California